You can go for a day long tour to Totopara. Totopara is the only place where you can find the Toto tribe. This aborigines were nearly got extincted in the 1950 but now their population have reached about 3000. Their houses, food, languages everything is unique. Tourists who are interested about cultures of Doaars region, this day tour will be a perfect way to spend the day.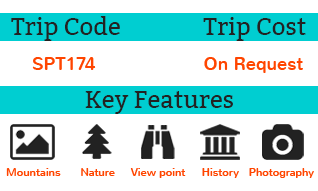 Things to carry
Water bottle.
A pair of sunglasses.
Cap or hat.
Umbrella (If you are traveling during rainy season).
Permit & Entry fee
Indian and foreign tourists don't need any permit for this sightseeing tour.
Custom & Advisory
Wear modest clothes while visiting the place.
People will happily pose for a picture but please ask them before to do so.
Health & Safety
If you are allergic to plants and pollen then take precaution.
Carry water from Lataguri. Although you can get water on your way.
This place is safe for family and friends and tourist friendly.