The beauty of the Sikkim Himalayas can't be described in just few words, especially when they speak about its gigantic mountains. This tiny Himalayan state has Mt. Kanchenjunga which is world's third highest peak. In Sikkim the view of Kanchenjunga can be seen from most of the places but there is one place from where you can get it's gigantic view at stone throwing distance! Goecha La – a mountain pass over 4980 m above mean sea level is such a place where one can experience this rare view. The trek to this pass is known as Goecha La trek and it's one of the fewer treks in the Himalayas where one can test his/her limit. Apart from Rhododendron forests, flowers, Rivers this trek is more about the giant mountains, their stories & rawness. Altogether it makes Goechala one of the exotic treks in the Himalayas.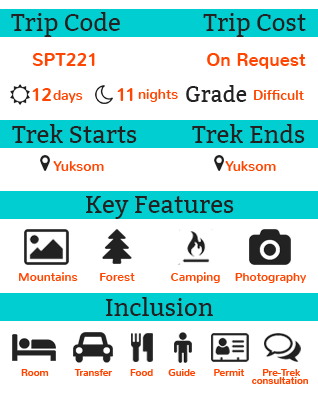 *Remember that this is the recommended itinerary by our local expert guides and followed by the most of the trekkers. Please contact us if you want to go for a customized option for this trek.
Day 1: Delhi/Mumbai to Bagdogra (by plane). Drive to Yuksom (1780 m)
After breakfast leave your hotel and reach at the airport to catch the flight for Bagdogra (IXB). Upon arrival meet with our representative and transfer to Yuksom. The distance from Bagdogra to Yuksom  is 153 kms and it takes around 6 hrs drive to reach here. Stay in a comfortable hotel. Overnight stay in Yuksom
Day 2: Trek from Yuksom to Sachen (2180 m), 5 hrs
Enjoy the lovely morning in Yuksom. After hearty breakfast your trek starts for Goechala. It will be an easy first day. As the trek starts we pass the a small hamlet and enter into UNESCO World heritage Khangchendzonga National Park. Trails become steep from here. On the way you see Rathong Chu (River) and the river sound will simply amaze you. The experience of trekking through the dense Rhododendron, Magnolia forest is fantastic and you will love this forest walk. After 2 hrs of walk we reach at Pha Khola (Stream) bridge. Relax here for a while and enjoy the nature. Our Sachen campsite is 2 hrs walk from here. Sachen is a small campsite surrounded by thick forest. Overnight stay in tent.
Day 3: Sachen to Tshokha (2957 m) via Bakhim (2621 m), 6 hrs
Wake up in the morning listening the chirping of birds. After breakfast we start for Tshokha. It will be upclimb walk almost all the time but the feel of walking through lush green forest is awesome and the view won't let you get tired. During trek sometimes you have to give way to Yaks so that they can go ahead, It's a very funny experience. After 3 hrs of walk we reach a small Tea shop – that's Bakhim. After Bakhim its just 1.5 hrs trek to Tshokha. Tshokha a small settlement where one can get the view of giant mountains like Pandim, Tenzing khang. There is a small Buddhist monastery here. Overnight stay in tent.
Day 4: Tshokha to Dzongri (3957 m) via Phedang (3658 m), 6 hrs
It's going to be an exciting day. After breakfast we start slowly. The first one hour trail will be steep. Then it will be around 3 hrs trek through dense Rhododendron forest to reach at Phedang. The green meadow, bright sunlight and mountain view – Phedang is a nice place to enjoy nature and rest. After Phedang the trail climb up to reach Deorali top (3980 m). This climbing is challenging but once you reach at the top the magnificent view of the Himalayas will sweep away all the tiredness! Yes, the 360' view from here is just breathtaking. The mighty Kanchenjunga, Kabru South, Kabru North, Pandim, etc giant Himalayan peaks will simply make you speechless. From here our Dzongri campsite is just 1 hr away. Overnight stay in tent.
Day 5: Dzongri to Kokchurong (3658 m), via Dzongri Top (4170 m), 5 hrs
We start in the dark to reach at the Dzongri top to experience spectacular sunrise over Kanchenjunga and other peaks. It will take around 45 min to reach at the top. A sunrise view from Dzongri top is something which you will never forget. Experiencing this beauty we return to campsite and after breakfast we start for Kokchurong. It will be a lovely walk today as the view of Kanchenjunga, Pandim and other Himalayan peaks will be with us all the time. It will be around 5 hrs to reach at our campsite. At the height of 3658 m Kokchurong is a lovely place. With Prek chu (River) is flowing just beside of the campsite, it's gurgling sound is so amazing and you can spend your hours just watching at the flowing river. Overnight stay in tent.
Day 6: Kokchurong to Lamuney (4150 m) via Thansing (3980 m), 5 hrs
After breakfast we start for Lamuney. We first cross the Prek Chu (river) and enter into Rhododendron forest. Most of the time it will be gradual walk today. Once we reach Thansing it will be flat walk to Lamuney campsite. You enjoy every moment of this walk as the astounding view of the Kanchenjunga, Pandim, Tenzing Khang peaks will keep you enchanted all the time. It is one of the most beautiful campsites here and the sunset view over gigantic Pandim is spectacular from here. It's considered to be the coldest campsite of this trek. Overnight stay in tent.
Day 7: Rest day. Small excursion to Samity Lake
Today we spend as a rest day. The idea is to give your body a well rest before we start for Goecha La. We do a small exploration to nearby Samity lake and do puja (offering) for wish fulfillment. The serene Samity lake will definitely win your heart. Overnight stay in tent.
Day 8: Summit day, Lamuney to Thansing (3895 m) via Goecha La (4980 m), 8 hrs
We start around 3 am today for Goecha La. This journey is something that you will cherish forever. Trek amidst dark night in freezing weather is so adventurous. It will take around 3.5 hrs to reach at the Goecha La (4980 m). While standing at the Goecha La you can see gigantic view of the Mt. Kanchenjunga, world's third highest peak at stone throwing distance. Mt. Pandim (6691 m) also looks so massive from here. On your way down to the camp the view of Kabru and other peaks will make you speechless. After returning to campsite we have our lunch and move towards Thansing (3895 m). It will take 1.5 hr to reach there. We spend the afternoon at leisure. Overnight stay in tent.
Day 9: Thansing to Tshokha (2957 m) via Kokchurong and Phedang, 6 hrs
After breakfast we will start for our destination – Tshokha. On the way return when you look back at the mighty Kanchenjunga, you amaze to think about the Goecha La summit! We take the same trail up to Kokchurong but from here we will take another trail to reach at Phedang. The trail goes through dense Rhododendron forest. During spring this trail looks so beautiful. After Phedang it's all downhill to Tshokha. Overnight stay in tent.
Day 10: Tshokha to Yuksom (1780 m) via Bakhim, 6 hrs
The 9 days long trek is coming to an end. We start in the morning for Yuksom – our end point. The trail is downhill most of the time and you enjoy the dense forest walk as you did on your way up. You meet new trekking group on your way down and it brings the souvenir of the journey you started a week ago. Upon arrival Yuksom road-head our trek ends and you will be transferred to hotel. Overnight stay in Yuksom.
Day 11: Yuksom rest/exploration day or move for onwards journey
After breakfast start for Bagdogra airport/ New Jalpaiguri Railway station for your onwards journey. Your Goecha La Trek comes to a happy ending!
Day 12: Adieos !
After breakfast start for Bagdogra airport/ New Jalpaiguri Railway station for your onwards journey. Your Goecha La Trek comes to a happy ending!
Cost Includes:
All airport/hotel transfers.
Accommodation in 2 star, 3 star or 4 star hotel on twin sharing and single sharing with CPAI plan (Room + breakfast) basis in Yuksom.
Accommodation and 3 meals a day (Breakfast, Lunch & Dinner) during the trek.
Morning and Evening Tea with snacks every day during trek.
Professional and highly experienced English/Hindi speaking local mountain guide.
All expenses for guide and porters.
All necessary permits needed for the trek.
Still and video camera charges.
*Note: Freshly prepared nutritious meals will be provided during the trek. You will have Indian and Nepali cuisines for your lunch and dinner mostly.
Cost Excludes:
Any personal nature of expenses such as telephone call, battery recharge, shopping, extra porters, beverages, laundry, etc.
Your travel insurance.
Any kind of insurance which covers medical or emergency evacuation, lost and theft expenses etc.
Client's Personal gear for the trek.
Additional cost for delay which is out of management's control like landslide, bad weather condition, itinerary modification with a view to safety concern, illness, change of government policy, political instability, strike, road blockade or any other natural calamities, etc.
Tips for trekking staff and driver. (Tipping is not mandatory. It's up to your satisfaction.)
Anything that isn't in the 'include' list.
Things to carry:
Comfortable and warm clothes.
Good backpack (50-60 L). If you want to offload your backpack then carry a daysack(20 L).
Good quality trekking shoes, slippers and extra pair of socks.
Rain Jacket/Poncho.
First aid kit and basic medication (if any).
Sunscreen lotion or any other skin moisturizers.
Water bottles, backpack and energy bars/snacks.
A pair of sunglasses.
Balaclava/Cap.
Gloves.
Headlamp (with spare batteries).
Personal toiletries.
Advisory
Climatic conditions in the high altitude zone is different from the plains; take adequate time to get acclimatized to high altitudes.
Pay attention to your guide to enjoy a safe and sound trekking experience.
Do not consume alcohol or any other intoxicants during the trek.
During night if you have to go outside of your tent then inform your tent mate or guide.
Carry basic medications and a first-aid kit during the trek.
It's our responsibility to keep the nature clean. Please do not encourage littering the local places or campsites.
While visiting any religious sites do not hurt the local sentiment and maintain quietness.
You can offload your personal baggages for the whole trek at an additional cost.
Tipping is not mandatory. It's up to your satisfaction.
Frequently Asked Question
What is the best season for Goecha La trek?
You can visit almost anytime in a year except the Monsoon (Jun 15 – Sep 15) and mid-Winter (Feb-Mar) but to be specific there are 2 best seasons for the Goecha La trek. 1) The Spring season starting from April to mid July. You can see beautiful Rhododendron flowers blooming in the forest. Many species of birds can also be seen this time.
2) The Autumn season is starting from mid September to December the sky remains clear for days and you will be amazed to see the Himalayan peaks.
The Winter season stats actually from January. You can visit that time and experience another exotic snowbound view of Goechala which very people have seen. But remember to trek in the winter you need to have good experience and it will be an expedition kind of thing rather than just trekking. The time for monsoon is from mid July to mid September. During monsoon the national park stays close.
Is there any chance of getting snow?
At Goecha La there is much chance of getting snow/ice throughout a year. It will be cold and windy and the top. During the winter time you will get snow after Phedang.
What about the wildlife?
Goecha La trek is in Khangchendzonga National Park which is famous for rich flora and fauna. The large animals are Asiatic black bear and Common Leopard in the National Park however they are very less seen in the trek routes. No wildlife attack on trekkers have been recorded so far. But it's not advisable to go for unguided walks in the National Park.
Tell me about the difficulty of this trek?
The level of difficulty for the Goecha La trek is DIFFICULT with the mixed sections of steep and gradual ascents and the trail passing through the alpine trees and forest covers. The remoteness of the trek makes it difficult and the summit day justifies its difficulty level.
What about the food and drinking water during this trek?
Nutritious veg meals along with egg dishes and safe drinking water will be provided during the trek. You will have Indian and Nepali cuisines in your lunch and dinner mostly.
Can you tell me which type of shoes should I carry for this trek?
Please do not carry the normal sports shoes. As you need good traction during the trek a pair of good trekking shoes are a recommended choice.
Tell me about the clothing and equipments needed for this trek.
Remember the temperature will be cold throughout the trek with the possibilities of rain. We highly recommend that you carry Down jacket, Thermal inner wear, Balaclava, Gloves, Raincoat/Poncho etc. It will be sub-zero condition at the nights from Dzongri camsite, prepare accordingly. Use layers for better insulation and don't wear tight clothes. If you have more questions then let us know. We will be happy to assist you.