The iconic Taktsang monastery or Tiger's nest is a must place in Bhutan. There is a legend associated with this monastery. In the 8th century, Guru Padmasambhava or the great spiritual master is said to be flown to this monastery on a back of a tigress from Tibet and meditated in a cave for 3 years 3 months 3 weeks 3 days and 3 hours. This is the most important monastery in Bhutan also. The main temple complex was first built in 1692 AD. Standing on a vertical cliff one will be amazed to the architecture of this monastery. This hike takes around 2.5 hrs from the base. There is only a single trail that goes through forest up to  this monastery & the ascent is gradient. This hike is very much enjoyable as the trail goes through lush green forest. At the beginning of this hike one can see this monastery from the base. As climbing up the view of Paro valley from the top looks superb. Once reach at the final view point the jaw-dropping view of this monastery will surely make speechless to anyone.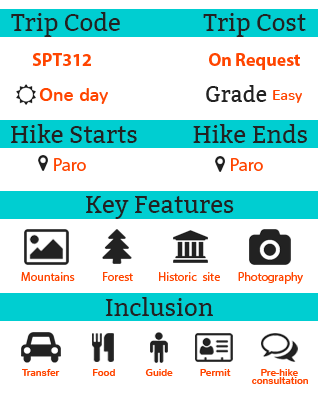 Things to carry
Comfortable and warm clothes.
A daysack(20 L).
Good quality trekking shoes.
Rain Jacket/Poncho.
Sunscreen lotion or any other skin moisturizers.
Water bottles and energy bars/snacks.
A pair of sunglasses.
Balaclava/Cap.
Permit & Entry fee
All the permit procedure and entry fees will be taken care by us including you still and video camera charges.
Custom & Advisory
Pay attention to your guide to enjoy a safe and sound hiking experience.
Do not consume alcohol or any other intoxicants during the hike.
Carry basic medications and a first-aid kit during the hike.
It's our responsibility to keep the nature clean. Please do not encourage littering the local places or campsites.
Observe silence inside a monastery or temple.
While visiting in any religious place please remove your footwear before entering into the main temple.
People will happily pose for a picture but please ask them before do so.
Tipping is not mandatory. It's up to your satisfaction.
Health & Safety
If you are allergic to plants and pollen then take precaution.
There are 2 water filling points in this hiking route but if you are not sure then you can buy water from Paro.
This place is safe for family and friends and tourist friendly.