You can go for local sightseeing tour to the various places of interest in nearby areas of Zuluk. This full day tour program can be customized to meet your needs. Some of the places of interest are Gnathang Valley, Thambi View Point, Yak golf course,  Lampokhari Lake, Elephant Lake, old Baba Mandir etc. The beauty of Gnathang valley is just jaw dropping. The view from Thambi view point is also very nice as you can see the famous 32 hairpin bends of the Old silk route from here. Yak golf course is the highest golf course in the World which you can see in this day tour.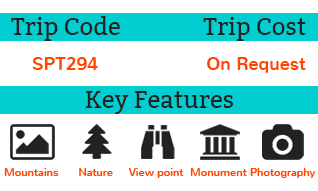 *This day tour is only for Indian tourists. Foreign tourists are restricted to visit this place as it's closer to border.
Things to carry
Balaclava or scarf to cover your ears.
Gloves.
Water bottle.
A pair of sunglasses.
Cap or hat.
Snacks.
Medicine for motion sickness.
Permit & Entry fee
We will arrange all the permit needed for this tour.
Custom & Advisory
Observe silence inside a monastery or temple.
While visiting in any religious place please remove your footwear before entering into the main temple.
Wear modest clothes while visiting any religious place.
People will happily pose for a picture but please ask them before do so.
Health & Safety
If you are allergic to plants and pollen then take precaution.
Carry water and snacks from Zuluk.
This area falls in high altitude zone. Tourists may feel light headache, motion sickness on their way to the Thambi view point. Take deep breath and drink adequate water to acclimatize with this altitude.
Don't cover your ears while you are inside of the car. It's will allow your body to acclimatize to this altitude.