Sandakphu-Phalut Trek, known for panoramic view of Himalayan peaks like Everest and Kanchenjunga, is popular amongst adventure lovers for many years. However, the original circle trek route is 8 days long and sometimes it's gets overcrowded. To skip the total trek day duration, we have carefully designed a trek route which cut the trek duration. The good part of this trek trek route is that it goes to Sandakphu and trekkers get to see all key attractions of this trek and takes a unique trail through dense forest and end the trek. Being a local tour operator of this region, our guides know this trail for more than 15 years. This is the privilege we have and happy to offer this trek route to our guests. If you are nature and wildlife lover then we will highly recommend to go for this trek where you will have chances of spotting endangered Red Panda.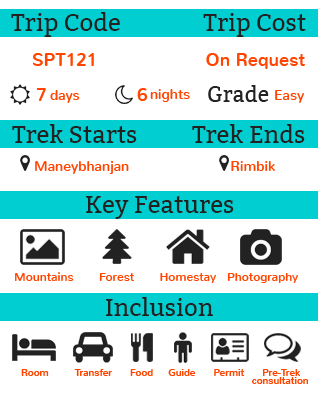 Sounds exciting, isn't it? So why waiting! join us for this unique trek route and take your Himalayan trekking experience in another way- we say the Smile Panda way!
Day 1: Delhi/Mumbai - Bagdogra (by plane) - Darjeeling (2130 m) by car – 70 km, 3 hrs
Upon arrival our representative will meet you at the airport/Railway station and transfer you to Darjeeling. The distance is 70 km from Bagdogra and it takes around 3 hrs drive to reach Darjeeling. Spend the evening at leisure. Overnight stay in Darjeeling.
Day 2: Darjeeling to Maney Bhanjan by car. Trek to Tumling (3070m) 11km, 6 hrs
Enjoy the beautiful morning in Darjeeling. After breakfast drive to Maney Bhanjan (34 km, 2 hrs) which is the starting point of the trek. Foreigner guests need to do an immigration entry here which take only 15 minutes. Once the trek starts the trail climbs up steeply through deep forest. After walking for 45mins you can see some Buddhist prayer flags and a big Chorten -this is Chitrey. The beautiful Sleeping Buddha formation of Kanchenjunga and another group of mountains can be seen from here. After Chitrey we take a small trail into dense malingo (Small bamboo) forest up to Lamaydhura, a small hamlet. The funny part of this trek is that sometimes you walk in Indian side and sometimes in Nepal side. There is no border fencing here just some area pillar for marking. After Lamaydhura the walk becomes more beautiful as you see the view of Kanchenjunga on your right side. After 1 hr of the walk, we will reach a small settlement – Meghma. Tumling is just 1 hr walk from here and you will enjoy this walk. Once you reach Tumling you will be amazed to see the view of Kanchenjunga. Don't miss the sunset view from Tumling. Overnight at Tumling.
Day 3: Tumling (3070m) to Kalapokhri (3081 m) 13km, 6 hrs
We will wake up in the early morning for the sunrise view. It will be cold outside but the beauty of the sunrise will definitely warm your heart. Experiencing this grand view we will return to our place. After having a hearty breakfast we will start our trek for Kalapokhri – our stop for today. It will be all decent up to Gairibas, a small village in Indo-Nepal border then the trails goes up to Kaiyakata. From Kaiyakata to Kalapokhri the trail is gradual and it goes through the dense forest. You will enjoy this forest walk. Though rare but there is a chance of sighting Red panda here. Kalapokhri is distinguished with a small pond in the beginning of this small hamlet. You can see Sandakphu from here. You can't see greater Himalayan mountains from here but the sunset of Kalapokhri has its own charm. Overnight stay at Kalapokhri.
Day 4: Kalapokhari (3081m) to Sandakphu (3636m) 6km, 4 hrs
It will be an easy start today. The initial 2 km, up to Bikeybhanjan will be a gradient walk. After Bikeybhanjan it will be steep climbing of 4 km until we reach Sandakphu. Once we start ascending you will see Mt. Kanchenjunga on your right side. As it is the highest mountain in this vicinity you will get almost like a bird's eye view while climbing up. It takes around 2 hrs to reach at Sandakphu from Bikeybhanjan. The primary attraction of Sandakphu is the panoramic view of world's four of five highest mountain peaks. You can also see Mt. Chomolhari, Bhutan's highest peak from here. Other than these highest mountains of the world there are some 7000 meter plus mountains you will find in the landscape like Nuptse, Baruntse, Kabru north, Kabru south etc.
In the afternoon we will go for the summit walk of Sandakphu. The 360' view from the Sandakphu peak is something you will cherish forever. If one side has greater Himalayan peaks then the other side has beautiful villages of Nepal. You can also see Darjeeling town as well as plains of West Bengal from here. Spend the evening at leisure. Overnight stay at Sandakphu.
Today, we start bit easy as we have a very short distance to cover. It is an easy walk initially up to Bikeybhanjan and then hit the steeper stretch to Sandakphu for the last 2 kilometers. Keep an eye for Sleeping Buddha on your right while walking through the beautiful landscape. At 3636 meters, this is the highest point of West Bengal and is shared between India and Nepal. From here, you can see the gigantic Himalayan peaks all the way from Bhutan to Nepal in a single panoramic view. Sandakphu remains above the clouds most of the time and seeing pictures of dense 'sea of clouds' is not a surprise here. On a clear day, the visibility goes very as far as the plains of Siliguri and the Queen Of The Hills – Darjeeling. The slopes covered with Rhododendrons and silver fir trees. Overnight stay in a private family Lodge.
Day 5: Sandakphu (3336 m) to Timburey (2920 m) 13 km, 6 hrs
Today we wake up early to see the sunrise from here. There is one word that can describe the beauty of this phenomenon – Magical! Not only Kanchenjunga, the first sunlight on the Mt. Everest also looks fantastic. Witnessing this spectacular view we quickly return to our place and get ready for the journey. After having a hearty breakfast we start our journey for Timburey – our stop for today. The distance of Timburey from Sandakphu is around 13 km and it takes around 6 hrs. The best part of this trail is that the initial 6 km will be a beautiful meadow walk. The panoramic view of Kanchenjunga, Everest, Makalu and other peaks will continuously with you for this walk. Then we take a small trail and enter into dense Rhododendron forest. This trail will take us to Timburey. This forest walk is so adventurous and exciting. The most exciting part of this trail is that you can get a chance to spot endangered Red Panda. Continuous chirping of birds is a bonus and you could spot some of the rare birds of this National Park here. The ambience of Timburey is so quiet you enjoy your staying here. Overnight stay at Timburey.
Day 6: Timburey (2920 m) to Rimbik (2286 m) 8 km, 4 hrs and Drive to Darjeeling
We wake up and enjoy the morning view of this area. After breakfast we start for Rimbik. It will be a short forest walk then we see a river and road. The river, name Srikhola, is the main river of this area. We follow the road for few kilometers having cardamom fields on both side and reach Rimbik. Our trek ends here and we transfer you to Darjeeling. It's 4 hr distance from here and you will pass through beautiful villages and Tea gardens on your journey. Spend your evening at leisure or you go to local bazar (market) to buy souvenirs for your family and friends. Overnight in Darjeeling.
Day 8: Adieos !!!
After breakfast leave your hotel and reach airport/ railway station for onwards journey. The memorable journey comes to an end!
*You can spend an extra day and go for Darjeeling Sightseeing or transfer to Sikkim, Bhutan, Dooars to continue your travel.
Cost Includes:
All airport/hotel transfers.
Accommodation in 2 star, 3 star or 4 star hotel or Home-stay on twin sharing and single sharing with CPAI plan (Room + breakfast) basis in Darjeeling.
Accommodation and 3 meals a day (Breakfast, Lunch & Dinner) during the trek.
Morning and Evening Tea with snacks every day during trek.
Professional and highly experienced English/Hindi speaking local mountain guide.
All expenses for guide and porters.
All necessary permits needed for the trek.
Still and video camera charges.
*Note: Freshly prepared nutritious meals will be provided during the trek. You will have Indian and Nepali cuisines for your lunch and dinner mostly.
Cost Excludes:
Any personal nature of expenses such as telephone call, battery recharge, shopping, extra porters, beverages, laundry, etc.
Your travel insurance.
Any kind of insurance which covers medical or emergency evacuation, lost and theft expenses etc.
Client's Personal gear for the trek.
Additional cost for delay which is out of management's control like landslide, bad weather condition, itinerary modification with a view to safety concern, illness, change of government policy, political instability, strike, road blockade or any other natural calamities, etc.
Tips for trekking staff and driver. (Tipping is not mandatory. It's up to your satisfaction.)
Anything that isn't in the 'include' list.
Things to carry:
Comfortable and warm clothes.
Good backpack (50-60 L). If you want to offload your backpack then carry a daysack(20 L).
Good quality trekking shoes, slippers and extra pair of socks.
Rain Jacket/Poncho.
First aid kit and basic medication (if any).
Sunscreen lotion or any other skin moisturizers.
Water bottles, backpack and energy bars/snacks.
A pair of sunglasses.
Balaclava/Cap.
Gloves.
Headlamp (with spare batteries).
Personal toiletries.
Advisory
Climatic conditions in the high altitude zone is different from the plains; take adequate time to get acclimatized to high altitudes.
Pay attention to your guide to enjoy a safe and sound trekking experience.
Do not consume alcohol or any other intoxicants during the trek.
During night if you have to go outside of your tent/trekkers hut then inform your tent mate or guide.
Carry basic medications and a first-aid kit during the trek.
It's our responsibility to keep the nature clean. Please do not encourage littering the local places or campsites.
While visiting any religious sites do not hurt the local sentiment and maintain quietness.
You can offload your personal baggages for the whole trek at an additional cost.
Tipping is not mandatory. It's up to your satisfaction.
Frequently Asked Question
What is the best season for Sandakphu-Timburey trek?
You can visit almost anytime the year except for the Monsoon (Jun 16 – Sep 15) but to be specific there are 2 best seasons for the Sandakphu-Timburey trek. 1) The Spring season starting from April to mid-June and if you visit this time you will be amazed to see beautiful Rhododendrons and Magnolias are bloomed everywhere.
2) The post monsoon season is starting from mid-September to mid-November. During this time the sky remains clear for days and you can get a clear view of the mountains.
The Winter season stats actually from late December. You can visit that time and experience another exotic snowbound view of Sandakphu which very people have seen. But remember to trek in the winter you need to come up with good physical and mental preparation. The time for monsoon is from mid-July to mid-September. During monsoon, the national park stays close.
Is there any chance of getting snow?
If you visit during winter (Jan-Mar) there is much chance of getting snow/ice after Lamaydhura.
What about the wildlife?
Sandakphu-Timburey trek is in Singalila National Park which is famous for rich flora and fauna. The large animals are the Asiatic black bear and Common Leopard in the National Park. However, they are very less seen in the trek routes. There is a chance of spotting endangered Red Panda on your way from Sandakphu to Timburey. No wildlife attack on trekkers has been recorded so far. But it's not advisable to go for unguided walks in the National Park.
Tell me about the difficulty of this trek?
The level of difficulty for the Sandakphu-Timburey trek is EASY with the mixed sections of steep and gradual ascents and the trail passing through the alpine trees and forest covers. Please note that "EASY" is a generalized classification and as it's a high altitude trek trekkers are expected to join with full mental and physical preparation.
What about the food and drinking water during this trek?
Nutritious veg meals along with the egg dishes and safe drinking water will be provided during the trek.
Can you tell me which type of shoes should I carry for this trek?
Please do not carry the normal sports shoes. As you need the good traction during the trek a pair of good trekking shoes are recommended choice.
Tell me about the clothing and equipments needed for this trek.
Remember the temperature will be cold throughout the trek with the possibilities of rain. We highly recommend that you carry Down jacket, Thermal inner wear, Balaclava, Gloves, Raincoat/Poncho etc. It will be sub-zero condition at the night of Kalapokhri and Sandakphu, so prepare accordingly. Use layers for better insulation and don't wear tight clothes.
If you have more questions then please let us know. We will be happy to assist you.