Spread over 79 sq Km, Singalila National Park in West Bengal is famous for its rich flora and fauna amongst nature lover. It is home to endangered Red Panda. If you love birdwatching then this National Park has many surprises for you. Beautiful scarlet minivet, Fire-tailed myzornis, Satyr tragopan, Kalij pheasant, Blood pheasant, White-throated Redstart, Plain-backed Thrush, Rufous-vented tit, Fulvous parrotbills, Golden-breasted fulvetta – the list just goes on! More than 115 species of birds have been recorded here so far. This National park is also on the flyway of many migratory birds.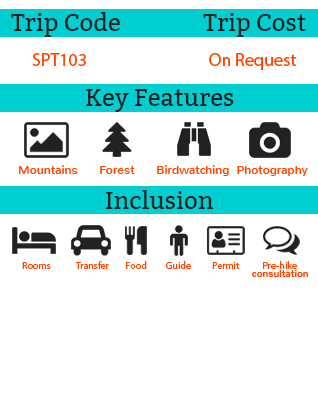 SMILE PANDA Tours organizes guided birdwatching trip in this National Park. Our customized birdwatching itineraries are carefully designed so that birdwatchers can have plenty of chances to get maximum views. As this National Park is famous for Sandakphu Trek, our Birdwatching route is also strategically designed so that we can skip busy trek routes. We are so lucky to have local birdwatching guides with us who know this region for many years. It's their years of field study experience that makes them one of the most experienced birdwatchers here. So with us we can firmly say that your are going with the masters of this jungle.
Things to carry
Comfortable and warm clothes.
Backpack.
Good quality trekking shoes.
Rain Jacket/Poncho.
Water bottles and energy bars/snacks.
A pair of sunglasses.
Balaclava/Cap.
Permit & Entry fee
We will arrange all the permit needed for this tour.
Custom & Advisory
Pay attention to your guide to enjoy a safe and sound birdwatching experience.
Avoid wearing clothes having fluorescent or neon colors.
Maintain silence while walking in the sanctuary.
It's our responsibility to keep the nature clean. Please do not encourage littering the local places or campsites.
Do not consume alcohol or any other intoxicants during the tour.
We can provide porter to carry your gears at an additional cost.
Tipping is not mandatory. It's up to your satisfaction.
Health & Safety
If you are allergic to plants and pollen then take precaution.
Singalila National Park is famous for rich flora and fauna. Here the large animals are Asiatic black bear and Common leopard. However, they are very less seen in the route. No wildlife attack on birdwatchers have been recorded so far. But it's not advisable to go for unguided walks in this National Park.