A day hike to Ranidhunga from Pelling could be a lovely one day adventure activity for the nature lovers. Ranidhunga is a huge unmoving rock located on the top of upper Chhangey village. There are four holy caves under the rock and devotees come here to offer Puja (offering). The hike starts from Sanga Choeling monastery where you come from Pelling (8 km) by our car. A monastery which was built is 17th century and one of the oldest monasteries of Sikkim. The location of the monastery makes it so peaceful. A small a gradient trail in front of the goes into nearby forest. Surrounded by thick vegetation walking becomes more exciting as we climb high. This trail is a paradise for the birdwatchers as you can see numerous species of birds here. Leafy mountain view adds more drama in the landscape. After walking for an hour you could see a beautiful valley to your left – this is Dentam valley which is famous for cardamom plantation. Far away in the mountain tiny Sikkemese village huts look so nice. The last quarter of this walk to Ranidhunga goes through dense alpine forest mostly having Pine trees. You should take a break and admire this beauty. Once you resume remember Ranidhunga is just 45 min away from here.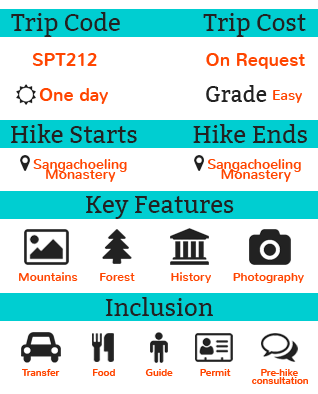 Marked by a huge rock and a trident, Ranidhunda offers 
fantastic
 view of entire 
Dentam
 valley. You could see majestic Kanchenjunga, Kabru and other Himalayan peaks from here also you could see The famous Barsey Rhododendron Sanctuary of Sikkim and Indo-Nepal border mountains. You could seat on the rock and enjoy the warm sunlight. Later explore the holy caves under the rock – It will be bit adventurous. The return journey will take around 3 hrs from Ranidhunga and once we reach Sangachoeling 
monastery
 our day-hike will be finished.
*This trail wasn't known to adventure lovers as it was officially declared open for visitors in Ranidhunga Rhododendron Tourism Festival, 2017 by respective tourism development society. Being a lesser-known hiking trail this route offers complete serenity from busy touristic places.
Things to carry
Comfortable and warm clothes.
A daysack(20 L).
Good quality trekking shoes.
Rain Jacket/Poncho.
Sunscreen lotion or any other skin moisturizers.
Water bottles and energy bars/snacks.
A pair of sunglasses.
Balaclava/Cap.
Permit & Entry fee
All the permit procedure and entry fees will be taken care by us including the still and video camera charges. National tourists must bring valid id card with them. Foreign tourists must bring their passport with valid visa for this hike.
Custom & Advisory
Pay attention to your guide to enjoy a safe and sound hiking experience.
Do not consume alcohol or any other intoxicants during the hike.
Carry basic medications and a first-aid kit during the hike.
It's our responsibility to keep the nature clean. Please do not encourage littering the local places.
Observe silence inside a monastery or temple.
While visiting in any religious place please remove your footwear before entering into the main temple.
People will happily pose for a picture but please ask them before do so.
Tipping is not mandatory. It's up to your satisfaction.
Health & Safety
If you are allergic to plants and pollen then take precaution.
Carry sufficient water (2 ltr PP) from Pelling. You can refill your bottle in the villages but most of the time you will in the forest & there you won't find drinkable water source.
This place is safe for family and friends and tourist friendly.