You can go for a day hike to Buxa fort from Coochbehar which is in the Buxa Tiger Reserve. The hike starts from a small quiet settlement name Santalabari. It takes just 1.5 hrs drive to reach here from Coochbehar and the journey goes through village and forest. This fort has an interesting history. The King of Bhutan used the fort to protect a portion of famous Silk route which was connected between India and Tibet via Bhutan. Later they abandoned this fort and during unrest in occupation of Tibet, many refugees arrived at the place and used this as refuge.
This area was used to be a point of contention between the Bhutan King and the Cooch Kings. After the British interceded on invitation of the Cooch King and captured the fort. The fort was formally handed over to the British on 11th November, 1865 as part of Treaty of Sinchula.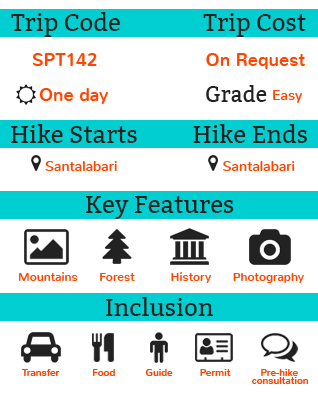 Then they restored the fort from its original bamboo wood structure to stone structure. Later they used this fort as a high security prison and detention camp for the freedom fighters. This fort was the most unreachable prison in India after the Cellular Jail in Andaman.The fort however is in ruin state now.
Not only history, the local Dukpa people and their smiling faces are true jewel of this region. On your way to the fort you will cross small Dukpa settlements. You can see the vast and dense forests of Dooars at a bird's eye view from here. The surrounding forest is also home to many beautiful birds and butterflies. More than 284 species of birds and 300 species of butterflies have been recorded in this Tiger Reserve so far.
Things to carry
Comfortable and warm clothes.
A daysack(20 L).
Good quality trekking shoes.
Rain Jacket/Poncho.
Sunscreen lotion or any other skin moisturizers.
Water bottles and energy bars/snacks.
A pair of sunglasses.
Balaclava/Cap.
Permit & Entry fee
All the permit procedure and entry fees will be taken care by us including the still and video camera charges. National tourists must bring valid id card with them. Foreign tourists must bring their passport with valid visa for this hike.
Custom & Advisory
Pay attention to your guide to enjoy a safe and sound hiking experience.
Do not consume alcohol or any other intoxicants during the hike.
Carry basic medications and a first-aid kit during the hike.
It's our responsibility to keep the nature clean. Please do not encourage littering the local places.
Observe silence inside a monastery or temple.
While visiting in any religious place please remove your footwear before entering into the main temple.
People will happily pose for a picture but please ask them before do so.
Tipping is not mandatory. It's up to your satisfaction.
Health & Safety
If you are allergic to plants and pollen then take precaution.
The local Tea-houses serve safe drinking water but if you are not sure then you can buy packaged drinking water almost at every Tea-house.
This place is safe for family and friends and tourist friendly.