You can go for local sightseeing tour to places of interest in here. The tour program can be suitably customized to meet your needs and generally a full day tour. Some of the places of interest are Batasia Loop, Ghoom Monastery, Darjeeling Ropeway, Padmaja Naidu Himalayan Zoological Park, Ava art gallery, Tibetan Refugee Self Help Center, Tenzing & Gombu Rock, Happy Valley Tea Estate, Tiger Hill, Japanese Temple & Peace Pagoda and many more.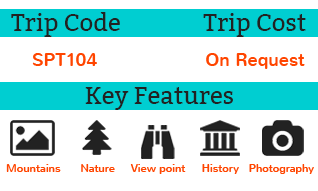 Things to carry
Water bottle.
A pair of sunglasses.
Cap or hat.
Umbrella (If you are traveling during rainy season).
Permit & Entry fee
Indian and foreign tourists don't need any permit for this sightseeing tour. However, some places have entry fee for the visitors.
Custom & Advisory
Observe silence inside a monastery or temple.
While visiting in any religious place please remove your footwear before entering into the main temple.
Wear modest clothes while visiting any religious place.
People will happily pose for a picture but please ask them before do so.
Health & Safety
If you are allergic to plants and pollen then take precaution.
The local hotels and restaurants serve safe drinking water but if you are not sure then you can buy packaged drinking water almost at every place.
This place is safe for family and friends and tourist friendly. But for any safety concern, you can share your query with local police station (dial 100 only) or reach to the nearest tourist information center.