Sikkim, the tiny Himalayan state is a hidden corner in India. For many years the land of Sikkim was hidden from the rest of the World and so was its culture. Not only the breathtaking views of the Himalayas, the peaceful ancient monasteries – the vibrant village life of Sikkim is another aspect which a traveler must experience. The people of Sikkim practice organic farming which led them to get recognition of India's first fully organic state in 2016. In our Begha village cultural hike we take you to an offbeat corner in West Sikkim where you can meet the smiling local people and learn about their culture very closely. 
Being the most popular tourist destination in West Sikkim, this village is near to Pelling and you can come for a day hike if you are staying here. After breakfast, we will drive to the Singshore bridge which was once Asia's highest suspension cable bridge. Enroute enjoy the view of Changay falls. After exploring the bridge area our vehicle will take you to Upper Begha village. From here we hike for 30 mins to reach the Begha sheep farm which is the only sheep farm in Sikkim where the rare Banpala sheep is protected. We interact with the shepherds and walk to a beautiful view point from where you can see Pelling and the Indo-Nepal border. From this point we trek uphill to reach the local sheep-wool weaving center where you can experience the traditional way of sheep-wool making process. The villagers mostly practice agriculture and while walking through the village trails our guide will tell you the story of the village as well as the traditional culture of Sikkim. We cross a creek and reach another beautiful village named Mangmoo. In this village there are some villagers who are beekeepers and practice this ethically. Later we will have hot lunch in a villagers house where you will taste the traditional Sikkimese cuisine. If you are interested then we can take you to an amazing person who plays Tungna, a traditional music instrument of the Gurung community. Along with that we also showcase the traditional folk dances of the Gurung community before you. After finishing the village hike, drive back (1.5 hrs) to the hotel. Your Begha village cultural hike comes to a smiling end.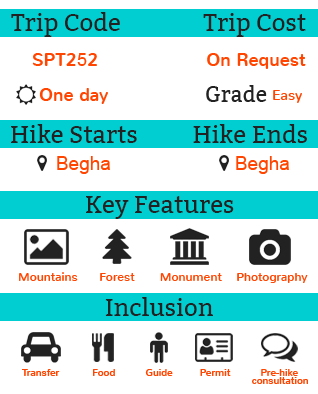 Things to carry
Comfortable and warm clothes.
A daysack(20 L).
Good quality trekking shoes.
Rain Jacket/Poncho.
Sunscreen lotion or any other skin moisturizers.
Water bottles and energy bars/snacks.
A pair of sunglasses.
Balaclava/Cap.
Permit & Entry fee
All the permit procedure and entry fees will be taken care by us including the still and video camera charges.
Custom & Advisory
Pay attention to your guide to enjoy a safe and sound hiking experience.
Do not consume alcohol or any other intoxicants during the hike.
Carry basic medications and a first-aid kit during the hike.
It's our responsibility to keep the nature clean. Please do not encourage littering the local places.
Observe silence inside a monastery or temple.
While visiting in any religious place please remove your footwear before entering into the main temple.
People will happily pose for a picture but please ask them before do so.
Tipping is not mandatory. It's up to your satisfaction.
Health & Safety
If you are allergic to plants and pollen then take precaution.
Carry sufficient water (2 ltr pp) with you for the hike. You can refill your water bottle in the houses on your way to the park.
This place is safe for family and friends and tourist friendly.