Sikkim, the peaceful Himalayan state, is surrounded by gigantic mountains and offers spectacular views of the grand Himalayas. For the trekking enthusiast Sikkim has many beautiful routes to explore where the large number of routes are still pristine. Bajredara Trek is one of such routes where one can experience not only unparalleled views of the Mt. Khangchendzonga but also the raw landscape of Sikkim's dense forest. The name Bajre derives from the word Bajra which means Thunderbolt and Dara means Mountain Top. Bajredara is a mountain top that receives a lot of Thunderbolt. One can see lightning struck dead trees with a gigantic view of Mt. Khangchendzonga in the backdrop upon arrival at the Bajredara. Apart from this Darjeeling town and Bhutan hills are also seen from here.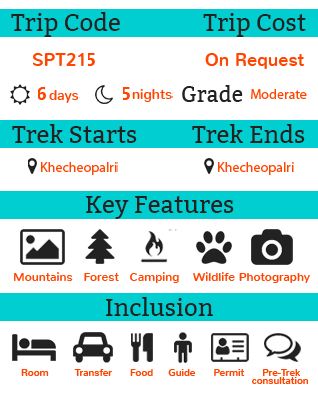 Bajredara trek is ideal for those who are looking for a lesser known multi day trek in Sikkim.
Day 1: Arrive at Bagdogra airport/New Jalpaiguri Railway Station. Drive to Khecheopalri.
Upon arrival, meet with our representative/pilot and drive (165 km-7 hrs) to Khecheopalri, your start point of this trek. Enroute experience the beautiful view of Teesta & Rangit river, the two largest rivers of Sikkim. Tucked away from the popular tourist destination Khecheopalri is a small village known for its peaceful ambience. Our campsite is in the upper Khecheopalri village (2150 M)  from where one can get a beautiful view of Mt. Pandim, Narsing, etc. mountain. The view of Yuksom, the first capital of Sikkim, Pelling and far away in the horizon Ravangla looks so scenic at night. After arrival, spend the rest at leisure. O/n Khecheopalri.
*In order to reach Khecheopalri in a single day you have to start from the airport/railway station by 11 AM. Post that you have to stay in Pelling which is 1.5 hrs before Khecheopalri.
Day 2: Khecheopalri lake exploration and trek to Bhanjyang (5 hrs - 7 km).
Wake up in the morning to experience a beautiful sunrise over the mountain. Morning view is simply amazing from here. You may wish to visit the old Khecheopalri monastery which is just a walking distance from your campsite and later we explore the legendary Khecheopalri lake and the newly built Tashi Choeling monastery. We return back to our place and start our trek for Bhanjyan, our stop for today. We initially walk down to cross a small mountain stream. The route becomes steep from here. After 30 mins of trek we reach a small village which is the last human settlement here. The path becomes steeper from here to reach our campsite Bhanjyang (2250). We can't walk further as there is no camping spot before Bajredara. Our campsite is a little open area inside a dense forest. There is a viewpoint just 150 mtr walk from our campsite. One can see the sacred Nupdichenphug cave AKA Neydham. According to the legend Guru Padmasambhaba did meditation here during His visit to Sikkim. In the evening the lights of Pelling, Darjeeling, Ravangla, Namchi will allure you. O/n in a tent.
Day 3: Bhanjyang to Bajredara trek (6 hrs - 9 km).
Wake up in the morning and enjoy the view from your campsite. After breakfast we start our trek to Bajredara (3450 M). The longest and toughest day of this entire trek route comes today. It will be 6 hrs of trek and all the time we will be walking uphill till we reach the top. Most of the time we will be walking under trees (Rhododendrons mostly). While trekking you could see the view of Khecheopalri lake which looks like a footprint. Just 15 mins before reaching the top vegetation changes and you can see dwarf bamboo (Local name Malindro). Bajredara requires no landmarks. The lightning struck dead trees and the majestic view of Mt. Kanchenjunga marks its location. It's one of the few offbeat treks in the Sikkim Himalayas which give you an unparalleled view of Mt. Kanchenjunga at such a short duration. We explore the surroundings in the afternoon. The bird's eye view of Khecheopalri lake is also a key attraction of this place. Evening will be cold and windy here. O/n in a tent.
Day 4: Campsite exploration and day hike.
Have you ever experienced the thrill of exploring an unexplored trail? Well today won't be much in terms of view. But to feel the explorer soul inside you, this day will stay in your forever! First experience a magical sunrise right from your campsite. The golden hues of the Kanchenjunga is something you don't see every day. After breakfast we start our exploration towards a route that's never completed by any official trekkers. We go towards Kanchenjunga from the most dense region of Kanchenjunga National Park. We go with our packed lunch and trek till 1 O'clock. After that we return back to our campsite. This route is known for elusive Musk deer, Asiatic black bear, Barking deer sightings. We experience the sunset from our campsite. O/n in a tent.
Day 5: Bajredara to Khecheopalri trek (8 hrs - 12 km).
After breakfast we start our trek from Bajredara. We take the same route to reach Upper Khecheopalri village. It will take around 8 hrs to finish the trek. Evening we celebrate the completion of the trek with a bonfire and local brew. O/n in Khecheopalri.
Day 6: Adieos!
Wake up comfortably. After breakfast, drive back to Bagdogra airport or New Jalpaiguri railway station (7 hours). Upon arrival your trip comes to a smiling end.
Cost Includes:
All airport/hotel transfers.
Accommodation in Home-stay/Tent on twin sharing and single sharing with MAPAI plan (Room + breakfast + Dinner) basis in Khecheopalri.
Accommodation and 3 meals a day (Breakfast, Lunch & Dinner) during the trek.
Morning and Evening Tea with snacks every day during trek.
Professional and highly experienced English/Hindi speaking local mountain guide.
All expenses for guide and porters.
All necessary permits needed for the trek.
Still and video camera charges.
*Note: Freshly prepared nutritious meals will be provided during the trek. You will have Indian and Nepali cuisines for your lunch and dinner mostly.
Cost Excludes:
Any personal nature of expenses such as telephone call, battery recharge, shopping, extra porters, beverages, laundry, etc.
Your travel insurance.
Any kind of insurance which covers medical or emergency evacuation, lost and theft expenses etc.
Client's Personal gear for the trek.
Additional cost for delay which is out of management's control like landslide, bad weather condition, itinerary modification with a view to safety concern, illness, change of government policy, political instability, strike, road blockade or any other natural calamities, etc.
Tips for trekking staff and driver. (Tipping is not mandatory. It's up to your satisfaction.)
Anything that isn't in the 'include' list.
Things to carry:
Comfortable and warm clothes.
Good backpack (50-60 L). If you want to offload your backpack then carry a daysack(20 L).
Good quality trekking shoes, slippers and extra pair of socks.
Rain Jacket/Poncho.
First aid kit and basic medication (if any).
Sunscreen lotion or any other skin moisturizers.
Water bottles, backpack and energy bars/snacks.
A pair of sunglasses.
Balaclava/Cap.
Gloves.
Headlamp (with spare batteries).
Personal toiletries.
Advisory
Climatic conditions in the high altitude zone is different from the plains; take adequate time to get acclimatized to high altitudes.
Pay attention to your guide to enjoy a safe and sound trekking experience.
Do not consume alcohol or any other intoxicants during the trek.
During night if you have to go outside of your tent then inform your tent mate or guide.
Carry basic medications and a first-aid kit during the trek.
It's our responsibility to keep the nature clean. Please do not encourage littering the local places or campsites.
While visiting any religious sites do not hurt the local sentiment and maintain quietness.
You can offload your personal baggages for the whole trek at an additional cost.
Tipping is not mandatory. It's up to your satisfaction.
Frequently Asked Question
What is the best season for Bajredara Trek?
You can visit almost anytime the year except the Monsoon (Jun 15 – Sep 15) but to be specific there are 3 great time for Bajredara Trek. 1) The Winter season starting from December to March. During you can experience bonechilling cold weather and goergious view of the mountains. If you are lucky then you can also experince snowfall at your campsite.
2) Spring season starting from April to mid June and if you visit this time you will get amazing blooming view of Rhododendrons just below Bajredara.
3) The post monsoon season is starting from mid September to mid November. During this time the sky remains clear for days and you can get clear view of the mountains.
Is there any chance of getting snow?
If you visit during January then there is chance of getting snow/ice. From February to April first week you can get snow on the ridge.
What about the wildlife?
Bajreydara trek is in the buffer area of Khangchendzonga National Park which is a UNESCO World Haritage site. The large animals are Asiatic black bear, Clouded Leopard. However, they are very less seen in the trek routes. No wildlife attack on trekkers have been recorded so far. But it's not advisable to go for unguided walks in this area.
Tell me about the difficulty of this trek?
The level of difficulty for the Bajredara trek is MODERATE with the mixed sections of steep and gradual ascents and the trail passing through the alpine trees and forest covers. From Bhanjyang to Bajredara is the most difficult section as one has to trek uphill for six hours to reach the campsite. Please note that as it's a high altitude trek, trekkers are expected to join with full mental and physical preparation.
What about the food and drinking water during this trek?
Nutritious veg meals along with the egg dishes and safe drinking water will be provided during the trek. Water sources are very limited in this route. Our guides know every corner of this route and they know all the available water sources here.
Can you tell me which type of shoes should I carry for this trek?
Please do not carry normal sports shoes. As you need the good traction during the trek a pair of good trekking shoes are recommended choice.
Tell me about the clothing and equipments needed for this trek.
Remember the temperature will be cold throughout the trek with the possibilities of rain. We highly recommend that you carry Down jacket, Thermal inner wear, Balaclava, Gloves, Raincoat/Poncho etc. It will be sub-zero condition at the night of Bajredara campsite, so prepare accordingly. Use layers for better insulation and don't wear tight clothes. If you have more questions then let us know. We will be happy to assist you.
Phokteydara Trek or Bajredara Trek, which is the best?
Both of this trek offers grand view of the Himalayas. Phokteydara trek is a popular one comparing to Bajredara trek. Bajredara trek offers exotic view of the nature which very few adventure enthusiasts have seen so far.