A lesser-known trek route in Buxa Tiger Reserve, West Bengal. Lepchakha Trek in a unique trek where you can have a mix experience of walking in the dense forest of Dooars and staying in the traditional home-stays of local Dukpa people. This trek route is undoubtedly paradise for Birdwatchers and Butterfly watchers. You will also get an opportunity to know about rural mountain culture. It's a four days trek starts from Santalabari, a small village in Buxa Tiger Reserve and the trail reaches to Lepcha Kha a small hamlet in the Sinchula hill range of the Himalayas. View of the vast Dooars region is just magnificent from here. Chirping of Crickets, sound of barking deer – ambience during night can be so thrilling here. This is perfect trek for such adventure lovers who want to experience the thrill of jungle walk as well as local culture at the same time.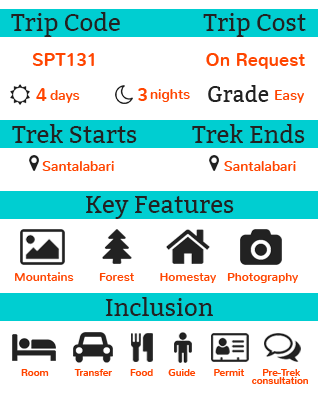 *Remember that the shorter duration of this trek can also be done if you have lesser time. However, this is the recommended itinerary by our local expert guide and followed by the most of the trekkers. Please contact us if you want to go for a customized option for this trek.
Day 1: Meet at the Airport/Railway Station and Transfer to 28 Mile busty
Upon arrival meet with our representative and transfer to 28 Mile busty, your stop for today. Enjoy Dooars home-stay experience here. Spend evening at leisure. Overnight stay in 28 Mile busty.
*Note: If you are coming by plane then the nearest airport will be Bagdogra (Code IXB)and it will take around 4 hrs drive to reach here. If you are coming by train then the nearest railway station will be Alipurduar Junction (Code APDJ) and it will take 45 min drive to reach here.
Day 2: Drive to Santalabari, Trek to Buxa Sadar, 4 hrs
Enjoy the beautiful morning in this beautiful hamlet. Surrounded by Teak forest overlooking Sinchula hill range in the backdrop, morning view of this area will give you a perfect boost for the trek. After breakfast leave the place and drive to Santalabari. It's a small settlement having few houses. This is the place where our trek starts for Lepchakha. The trek route goes through the forest of the Buxa Tiger Reserve, one of the largest National Park in India. The trail starts with a gradient walk followed by a steep descent up to a mountain stream. Once we cross the wooden ridge a steep trail can be seen. An hour of ascending through dense forest you can see a glimpse of a village – that's Chunabhati. After Chunabhati the trail becomes narrow and gradient. Since this is a lesser-known trek you will hardly see few local villagers crossing on your way. This serenity gives you at ease to enjoy the forest walk. It takes around 2hrs walk from Chunabhati to reach Buxa Sadar. It is the place where our trek ends for today. You will stay in a village home-stay. You could hear loud sound of barking deer near to your home-stay. Overnight stay in Buxa Sadar.
Day 3: Buxa Sadar to Lepcha-Kha , 4 hrs
You will wake up in the morning hearing the chirping of birds. After a hearty breakfast our trek starts for Lepcha-Kha. It will be gradient walk up to Buxa Fort after that it will be steep climbing. The Buxa fort has a interesting history –
Previously the King of Bhutan used the fort to protect the portion of famous Silk route which was connected between India and Tibet, via Bhutan but later they abandoned this fort. This area was used to be a point of contention between the Bhutan King and the Cooch Kings. After the British interceded on invitation of the Cooch King and captured the fort. The fort was formally handed over to the British on 11th November, 1865 as part of Treaty of Sinchula. The British restored the fort from its original bamboo wood structure to stone structure. Later they used this fort as a high security prison and detention camp for the freedom fighters. This fort was the most unreachable prison in India after the Cellular Jail in Andaman.The fort however is in ruin state now.
From Buxa fort it takes around 1.5 hrs to Lepcha-Kha and this trail is famous of birdwatching. Lepcha-Kha is marked with a Chorten and an open field. You can get jaw dropping view of Dooars region from here. In the afternoon go for a village walk and explore local Dukpa culture. Spend your evening at leisure. Overnight stay at Lepcha-Kha.
Day 4: Lepcha-Kha to Santalabari, 4 hrs. Jayanti exploration.
In the morning when the sunlight hits on the forest trees, the dew evaporates and creates a misty look – you must wake up early to experience this spectacular view. Experiencing this magnificent view relish a tasty breakfast and start your journey for Santalabari. The trail will be same up to Buxa Sadar and from there we take a new way to reach Santalabari. It will be all decent today. Once we reach Santalabari our Lepchakha Trek ends and we transfer you to Jayanti (9 km), a beautiful and quiet place on the bank of Jayanti river. In the afternoon go for a jungle safari adventure in nearby location or a small hike to a nearby Shiva (a hindu god) temple. This hike also a great adventure activity here. Return to your place by evening and spend time at leisure. Overnight in Jayanti.
*If you have return flight or train then upon completion of Lepchakha trek we transfer you to nearest Airport/Railway Station for onwards journey.
Day 5: Adieos!
The morning view of Jayanti is something which is hard describe in few words. Apart from astounding natural beauty the morning chorus of innumerable birds is such thing you have never heard of! Yes, this is called the song of jungle. After breakfast start your journey towards Airport/Railway station for your onwards journey.
Cost Includes:
All airport/hotel transfers.
Accommodation in home-stay at 28 Mile Busty. 2 star, 3 star or cottage accommodation in Jayanti.
Accommodation and 3 meals a day (Breakfast, Lunch & Dinner) during trek.
Morning and Evening Tea with snacks every day during trek.
Professional and highly experienced English/Hindi speaking local mountain guides.
All expenses for guide and porters.
All necessary permits needed for the trek.
Still and video camera charges.
*Note : Nutritious veg meals along with egg dishes will be provided during the trek. For this trek we try as much we can to add locally produced organic vegetables in your menu. You will have Indian and Nepali cuisines for your lunch and dinner mostly.
Cost Excludes:
Any personal nature of expenses such as telephone call, battery recharge, shopping, extra porters, beverages, laundry, etc.
Your travel insurance.
Any kind of insurance which covers medical or emergency evacuation, lost and theft expenses etc.
Client's Personal gear for the trek.
Clients offload expense.
Additional cost for delay which is out of management's control like landslide, bad weather condition, itinerary modification with a view to safety concern, illness, change of government policy, political instability, strike, road blockade or any other natural calamities, etc.
Tips for trekking staff and driver. (Tipping is not mandatory. It's up to your satisfaction.)
Anything that isn't in the 'include' list.
Things to carry:
Comfortable and warm clothes.
Good backpack (50-60 L). If you want to offload your backpack then carry a daysack(20 L).
Good quality trekking shoes, slippers and extra pair of socks.
Rain Jacket/Poncho.
First aid kit and basic medication (if any).
Sunscreen lotion or any other skin moisturizers.
Water bottles, backpack and energy bars/snacks.
A pair of sunglasses.
Balaclava/Cap.
Gloves.
Headlamp (with spare batteries).
Personal toiletries.
Advisory
Pay attention to your guide to enjoy a safe and sound trekking experience.
Do not consume alcohol or any other intoxicants during the trek.
Do not go outside of your home-stay premises at night without talking to your guide.
Carry basic medications and a first-aid kit during the trek.
It's our responsibility to keep the nature clean. Please do not encourage littering the local places or campsites.
While visiting any religious sites do not hurt the local sentiment and maintain quietness.
You can offload your personal baggages for the whole trek at an additional cost.
Tipping is not mandatory. It's up to your satisfaction.
Frequently Asked Question
What is the best season for Lepchakha trek?
You can visit almost anytime the year except the Monsoon (Jun 15 – Sep 15) when the National Park stays closed.
Is there any chance of getting snow?
No, there is no chance of getting snow in this trek.
What about the wildlife?
Lepchakha Trek falls in Buxa Tiger Reserve which is famous for rich flora and fauna. The large animals are Asiatic Elephant, Bear, Common Leopard in the Tiger Reserve. However, they are very less seen in the trek routes. No wildlife attack on trekkers have been recorded so far. But it's not advisable to go for unguided walks in the National Park.
Tell me about the difficulty of this trek?
The level of difficulty for the Lepchakha Trek is EASY with the mixed sections of steep and gradual ascents and the trail passing through the dense forest covers. Please note that "EASY" is a generalized classification and trekkers are expected to join with full mental and physical preparation.
What about the food and drinking water during this trek?
Nutritious veg meals along with the egg dishes and safe drinking water will be provided during the trek.
Can you tell me which type of shoes should I carry for this trek?
Please do not carry the normal sports shoes. As you need the good traction during the trek a pair of good trekking shoes are a recommended choice.
Tell me about the clothing and equipments needed for this trek.
You will need warm clothes for the nights only. During daytime a fleece will work for you. Carry Rain jacket/Poncho as there is possibilities of occasional rain. Use layers for better insulation and don't wear tight clothes. If you have more questions please let us know. We will be happy to assist you.
What are best places for watching vast Dooars forest view?
Rest point 4, Sadarbuxa and Lepchakha.