Sikkim, the 2nd tiniest state in India is not only rich with natural beauty. This cleanest state of India has it's very own culture which is preserved from many years. If you are a traveler who love village culture and want to experience the Himalayan village culture while trekking, we have a special trek route which starts from the West Sikkim and ends in the South Sikkim. This 8 days and 7 nights trek not only take you to some remotest villages of Sikkim but also offer you exotic landscape and age old hidden history. So why waiting! Join us for this amazing village trek and take your Himalayan cultural experience to another level.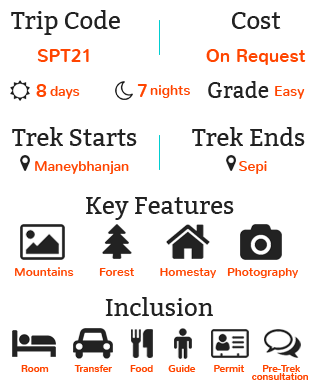 Day 1 : Delhi/Mumbai - Bagdogra (by plane) - Khecheopalri by car – 160 km, 6 hrs
On Arrival meet with our representative at New Jalpaiguri and transfer to Khecheopalri. En route visit Sevoke coronation bridge, Tribeni (adjoining point of Teesta and Rangit), Jorethang Valley, Rimbi water falls. During December you can see lovely view of Oranges at the Rimbi orange garden. On arrival transfer to the village homestay of Khecheopalri. It will be 20 mins to steep walk but once you reach the Homestay the view from the top will sweep away all the tiredness. Upon arrival greet with traditional welcome ceremony and hot drink. Evening free for leisure. Overnight at Khecheopalri.
Day 2: Khecheopalri explore. Indroduction to local village culture. Small offering for well being.
You wake up in the morning hearing the chirping of birds. We suggest you to go for a silent morning walk and experience the typical view of a Sikkimese village. If you wish you can help the host to feed their cattle or milking the cow. After breakfast we introduce you to traditional weaving technique, Bamboo basket making technique etc. After that we will go for a short village walk to interact with their daily lifestyle. The simple lifestyle of the villagers will definitely win your heart. We may wish to go to the local monastery to offer a Puja for sound health and good luck. In the afternoon we explore the mysterious Khecheopalri lake. There are many legends associated with this beautiful lake which make this lake one of the holiest lakes in Sikkim. We also go to a small temple just above this lake. This temple is dedicated to Green Tara who known as the "mother of liberation", and represents the virtues of success in work and achievements. Return back to homestay before evening while we start briefing for the trek we start from tomorrow. Overnight at Khecheopalri.
Day 3: Khecheopalri to Yuksom. 10 KM/ 5.5 hrs
After breakfast we say goodbye to our Khecheopalri host and start trek for Yuksom. Initially we descent to Khecheopalri lake and following a gradient trail we enter into a forest. It's going to be 2 hrs walk in the forest where we will get only gradient trails. Different varieties of fern is an eye-catcher. If you love birds then you can get many birds during the morning here in your trekking trail. After the forest walk we come to a open area where we could see a small village. Now we enter into that village. The zigzag trails into the village will not only take you to various village huts but also give you a cultural introduction. Once we cross this village we take the main road for sometimes. We cross a river bridge after walking for a while. The gurgling sound of Rangit river will stop you for a while. Following the main road we again take a trail and enter into another village. Yuksom is just 1.5 hrs walk from here. Yuksom, the first capital of Sikkim, will be our stop point for today. In the afternoon we go to Coronation throne and explore the market. Overnight at Yuksom.
Day 4: Yuksom to Hongri Monastery. 9 Km/ 5.5 hrs
Enjoy the lovely morning at Yusom. After breakfast our trek starts and we go to Hongri monastery today. Initially we get a gradient ascent up to Dubdi monastery. Built in 1701 AD Dubdi monastery is one of the oldest and pristine monastery in Sikkim. The quietness of the monastery will bring peacefulness in your soul. If sky is clear then you can see a glimpse of South Kabru from here. After visiting this monastery we take another trail towards Hongri monastery. It's going to be a beautiful walk surrounded by lush greenery. Watch out for some bird sighting. As this trek route isn't taken by the mainstream tourists this allows you to enjoy a serene landscape. Built in early 17th century Hongri monastery has it's own charm. We stay in a homestay near to Hongri monastery.
Day 5: Hongri monastery to Tashiding. 9 Km/5.5 hrs
As the sunlight touches ground we wake up and enjoy the morning here from the homestay. After breakfast we continue our trek to Tashiding. Today the trail will be most of all in the villages. The view during the walk today will be so beautiful. We pass small settlements, creek etc to reach Tashiding. The main attraction of Tashiding is Tashiding monastery. Founded in 1717 AD this monastery is situated on the top of a hill and offers spectacular 360° view of the surrounding Himalayas. This monastery is also the most sacred and holiest monastery in Sikkim. We stay in a homestay in Tashiding. In the afternoon we explore at the monastery. Overnight at Tashiding.
Day 6: Tashiding to Borong. 11 Km/6 hrs
After breakfast we start our trek and today we go to a picturesque offbeat village in Sikkim- Borong. Not many tourists have visited this place and this village is full of natural beauty. The breathtaking view of the snowcapped mountains from this village will make you speechless. From every corner of the village you get superb view of the mountains. The ever smiling villagers and their warm hospitality is also an inseparable part of this village. We explore this lovely village in the afternoon and interact with the local village culture. Overnight stay at Borong.
Day 7: Borong to Kharsang. 9 Km/ 5.5 hrs
We wake in the magical village of Borong to experience the sunrise. Today will be our last days of trekking. Our destination will be another offbeat place Kharsang. After breakfast we start our trek for Kharsang. The trail will be mix of uphill and downhill walk. It will take 5.5 hrs easy walk from Borong to reach Kharsang. We cross beautiful farming land on our way to Kharsang. Upon arrival our trek comes to an end. It's the last night at the beautiful Sikkimese cultural trek. We celebrate the night for the completion of the trek. Overnight at Kharsang.
Day 8: Adieos !!!
You can also spend an extra day and go for Ravangla, Namchi, Pelling Sightseeing or after breakfast drive towards Bagdogra/NJP. Upon arrival your Khecheopalri-Borong village trek comes to an end.
Cost Includes:
All airport/hotel transfers..
To and fro air tickets between Delhi airport (DEL) and Bagdogra airport (IXB) which is optional.
Traditional homestay accommodation and 3 meals a day (Breakfast, Lunch & Dinner) during the trek.
Morning and Evening Tea with snacks every day during trekking.
Professional and highly experienced English/Hindi speaking local mountain guides.
All expenses for guide and porters.
All necessary permits needed for the trek except still and video camera charges.
*Note : Freshly prepared nutritious meals will be provided during the trek. Most of the vegetable dishes, Dal we provide during trek are purchased from local farmers. You will have Indian and Nepali cuisines for your lunch and dinner mostly.
Cost Excludes:
Any kind of personal expenses such as telephone call, battery recharge, shopping, hiring extra porter, beverages etc.
Your travel insurance.
Any personal gear and expenses for the trek.
Any kind of insurance which covers medical or emergency evacuation, lost and theft expenses etc.
Tips for trekking staff and driver. (Tipping is expected, but it is not mandatory).
Additional costs or delay cost which may happen due to landslide, bad weather condition, Any itinerary modification keeping in mind the safety concern, illness, Change of government policy, Strike etc or any reason which is out of management's hand.
Anything that isn't in the 'include' list.
Things to carry:
Comfortable and warm clothes.
Good quality trekking shoes, slippers and extra pair of socks.
Rain jacket.
Sunscreen lotion or any other skin moisturizers.
Water bottles, backpack and energy bars/snacks.
A pair of sunglasses.
Cap or hat.
Personal toiletries and basic medication (if any).
Headlamp (with spare batteries).
Advisory
Pay heed to the guide or instructors to enjoy a safe and sound trekking experience.
Do not consume alcohol or any other intoxicants during the trek.
Avoid trekking during the nights.
Carry basic medications and a first-aid kit during the tour.
The trek takes place through Eco-friendly zone; do not encourage littering the local sites or campsites.
While visiting any religious sites do not hurt the local sentiments of the places.
You can book personal porters for carrying your personal baggages for the whole trek at an additional cost.
Frequently Asked Question
What is the best season for Khecheopalri-Borong village trek?
You can visit almost anytime the year except for the Monsoon (July 15 – Sep 15) but to be specific there are 2 best seasons for the Khecheopalri-Borong village trek. 1) The Spring season starting from April to mid-June and if you visit this time you will be amazed to see beautiful flowers are bloomed everywhere.
2) The post monsoon season is starting from mid-September to mid-November. During this time the sky remains clear for days and you can get a clear view of the mountains.
Is there any chance of getting snow?
No, there is no chance of getting snow in this trek route. But in the winter you can get breathtaking snowbound view of the Himalayas.
What about the wildlife?
Though there are some animals in the surrounded forest areas, they are very less seen in the trek routes. No wildlife attack on trekkers has been recorded so far. But it's not advisable to go for unguided walks in the forest.
Tell me about the difficulty of this trek?
The level of difficulty for the Khecheopalri-Borong village trek is EASY with the mixed sections of steep and gradual ascents and the trail passing through the alpine trees and forest covers. Please note that "EASY" is a generalized classification and trekkers are expected to join with full mental and physical preparation.
What about the food and drinking water during this trek?
Nutritious veg meals along with the egg dishes and safe drinking water will be provided throughout the trek.
Can you tell me which type of shoes should I carry for this trek?
Please do not carry the normal sports shoes. As you need the good traction during the trek a pair of good trekking shoes is a recommended choice.
Tell me about the clothing and equipments needed for this trek.
Remember the temperature is cold throughout the trek with the possibilities of rain. We highly recommend that you carry woolen clothes, thermal inner wear, windproof jacket, Raincoat etc. It will be cold at the nights of Khecheopalri and Borong, so prepare accordingly. Use layers for better insulation and don't wear tight clothes. If you have more questions please let us know. We will be happy to assist you.